DragInfo for Kit Lots (and anything else)
Intro:
DragInfo for Kit Lots was originally designed to help with the tedious, repetitive process of annotating laboratory test kit lot information. However it can also be used for any task that requires inputting
'canned text', addresses, phone numbers,  footnotes, disclaimers, standardized messages, legal mumbo-jumbo, or even keeping track of quotes and information.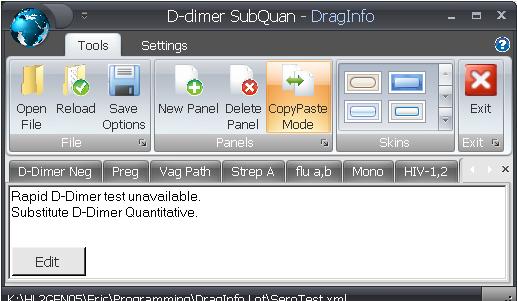 Basic use:
The basic idea behind DragInfo is to make it as easy as possible to plop your text snippet to wherever it needs to be. You simply left-click the text snippet in DragInfo, hold the mouse button down and drag it over to where you want it pasted. Simple, quick, and easy.

You can copy text over to any text document, Word document, email, web forms, etc.

Better than simple drag-and-drop programs:
Many programs support good old Windows 'drag-and-drop' functionality. The problem is not all support it and theres no way to know they don't till you try it. DragInfo checks for drag and drop support before 'pasting'. If the program doesn't support it DragInfo uses an alternative method to paste the text.

Works over Citrix:
Many who use Citrix to run applications daily have found that although programs run over Citrix look like 'real' programs many things 'just don't work'. Some keyboard shortcuts, no right-clicking, windows that appear to be in front but really aren't, etc.
Making DragInfo work with Citrix was a challenge, but a necessary one. How it works is beyond the scope of this guide but let's just say I had to go 'old school' to make it happen. There is a toggle button in DragInfo called 'Copy-Paste' mode that turns the Citrix functionality on and off. See button help.

Ready for shared use:
DragInfo stores it's kit lot/text snippet settings in an XML file that can be located anywhere. It can be placed on a shared drive so that when a kit lot changes it only needs to be updated once. You can direct each workstation to read info from a single file, ensuring that old info doesn't hang around.
In addition, DragInfo's personal preferences such as color scheme and window size and placement are specific for each user. So each user can have their preferred layout without affecting others.


[ad name="Synap sidebar1″]
Multiple xml file support:
You can create multiple XML files with text snippet/kit lot information for your various uses.

Quick, intuitive, and flexible interface:
DragInfo has a sleek new design, supports skinning, and is easy to learn. Configuring DragInfo is a breeze with large, clearly labeled icons. When you are done configuring it's easy to hide the icons and shrink DragInfo down to a small size, leaving plenty of room for the apps you work with.
Each text snippet/kit lot has it's own tab that makes it easy to switch around.

Best of all, it's Free!
DragInfo is free for personal use (some limitations apply, see note below). Feel free to share and enjoy this program!
[ad name="Before Download"]
Download DragInfo for Kit Lots:


DragInfo Install (5.87 MB)

DragInfo requires Microsoft DotNet Framework 3.5
[ad name="Synap blog wide"]
Note: Free programs are free for personal use and are intended exclusively for private use on a single workstation. You may copy the complete program package and pass it on to others for private use only. Registration is required for commercial or professional use.